Mon, 9 November
12:00 PM EST (New York)
Live Webinar: "MI" restoration of the deeply cavitated caries lesion
Speaker(s): Avijit Banerjee
Please login or register
In order to view this webinar you need to login into your account. Don't have an account? You can create one for free.
"MI" restoration of the deeply cavitated caries lesion
Avijit Banerjee
An update of adhesive materials and minimally invasive clinical, operative techniques
This webinar will present the contemporary rationale for managing the deep cavitated caries lesion that approaches the still- vital pulp.  There will be evidence-informed analysis of the current minimally invasive (MI) protocols to managing the diseased enamel and dentine, as well as a clinical and scientific overview of the adhesive materials available to restore teeth successfully. The webinar will offer discussion and clinical tips for the optimal placement of adhesive restorations in deep cavities.
Release date: 09/11/2015
Expiration date: 09/11/2018
Speaker(s)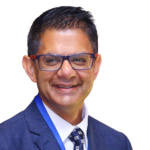 Avijit Banerjee
Professor Avijit Banerjee
BDS MSc PhD (Lond) LDS FDS (Rest Dent) FDSRCS (Eng) FHEA
Since qualifying with BDS from Guy's Dental School, London, UK (UMDS) in 1993, Avijit currently holds a Chair in Cariology & Operative Dentistry / Hon. Consultant and Clinical Lead, Restorative Dentistry at King's College London Dental Institute at Guy's Hospital (and Guy's & St. Thomas' Hospitals' Foundation Trust).  He is Head of Conservative & MI Dentistry, Associate Director of Education (UG) and has pioneered and established as Programme Director, an innovative KCL Masters (distance-learning) in Advanced Minimum Intervention Dentistry (please google "KCL AMID" for more info on the programme open to practising dentists and dental therapists worldwide). He also leads the Cariology & MI Operative Dentistry research programme at the DI as a principal research investigator (with research income in excess of £1 million, and a significant clinical and scientific research output in terms of peer-reviewed publications (>100), masters / doctorate research in the disciplines of cariology, minimum intervention / minimally invasive operative dentistry and adhesive dental biomaterials).
Indeed, he acts as an R&D KOL for many international dental Industry partners in these areas. Avijit is an internationally renowned lecturer and primary author of Pickard's Guide to Minimally Invasive Operative Dentistry (Oxford Univ Press, 10 ed, 2015), a definitive and globally respected text in its field.  He has written chapters in several other highly regarded textbooks and is editor of the new Vol 3: Minimally Invasive Esthetics (Elsevier, 2015).  He will be author/editor of a new BDA/BDJ "MI Dentistry Toolkit" manual for the oral healthcare team which will describe, with practical advice, how to implement MI Dentistry into an ethical, profitable day-to-day practice (due 2016). He is now editor-in-chief of Oral Health and Preventive Dentistry, and sits is an active editorial board member of Dental Update, British Dental Journal, Primary Dental Journal & International Journal of Adhesion and Adhesives, serves on the British Dental Association's Health & Science Committee, helping to guide the Association's stance on professional policy, all whilst maintaining wet-fingered UK specialist practice in Restorative Dentistry, Prosthodontics & Periodontics.
Ask the Expert
C.E. Certificate
Please login and watch the entire webinar before attempting to take the C.E. Quiz. Once you watch the webinar please return here to take the C.E. Quiz and print your C.E. Certificate.

Already logged in and watched the webinar? Please try to reload the page by using the button below.
Reload the page
Having trouble accessing the quiz? Please read the frequently asked questions or contact our support team. You can also email us at support@dtstudyclub.com